Fortalecer el Espíritu Empresarial de los Veteranos Desde la Inicio Hasta el Éxito de Pequeñas Empresas
Business Training
If you are an aspiring entrepreneur or small business owner seeking to start, purchase or grow your business, VBOC can assist you by providing training assistance programs, workshops, business tools, resource referrals, tailored counseling and mentoring in-person and online. Like any business, intel and resources will evolve over time, so check back for updated materials and new topics. If you don't see what you need here, call us at 518-326-6328. We are honored to serve you!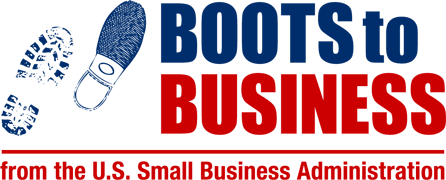 If you are currently active duty and will be eligible for the Transition Assistance Program (TAP), whether separating or retiring out of the military, or if you are a military spouse or the widowed spouse of a military member, the VBOC encourages you to register to attend "Boots to Business", the free TAP GPS 2-day entrepreneurship training class covering topics you need to consider before and as you start your business. Following the 2-day intro class, you will be eligible to enroll in the 8-week B2B instructor-led online training program, a deep dive on each of the modules by instructor and business experts to help you work on your own business plan.
Boots to Business Reboot is an eight-hour training program for veterans, service members and their spouses that provides a detailed overview of business ownership as a career path. Advisors offer participants valuable information on forming a business plan and help familiarize veteran entrepreneurs with public and private resources, as well as practical exercises in opportunity recognition. After completing the B2B or B2BR training courses participants are eligible to further their study with an eight-week, instructor-led online course that offers in-depth instruction on the elements of a business plan and tips and techniques for starting a business.
Financing/Legal Issues/Insurance
Government Contracting (State & Federal)
SBA District Offices
New York
Niagara Center 130 S. Elmwood Avenue Suite 540 Buffalo, NY Phone: 716-551-4301 Fax: 716-551-4418 Rochester Branch Office 100 State Street Room 410 Rochester, NY Phone: 585-263-6700 Fax: 585-263-3146 Locations: Buffalo | Rochester Syracuse District Office 224 Harrison Street 5th Floor Syracuse, NY Phone: 315-471-9393 Fax: 315-471-9288 Elmira Branch Office 333 E. Water Street 4th Floor Elmira, NY Phone: 607-734-8130 Fax: 607-733-4656 Albany Alternate Work Site 1 Computer Dr. So. Albany, NY Phone: (518) 446-1118 x231 Locations: Syracuse | Elmira | Albany New York District Office 26 Federal Plaza Suite 3100 New York, NY Phone: 212-264-4354 Fax: 212-264-4963 Locations: New York | Hauppauge
New Jersey
New Jersey District Office Two Gateway Center Suite 1501 Newark, NJ Phone: 973-645-2434 Fax: 973-645-6265 Location: Newark
La Asociación del Centro de Ayuda Comercial para Veteranos - The McNulty Center's Veterans Business Outreach Center - está parcialmente financiado por la Oficina de Desarrollo de Negocios para Veteranos (OVBD) de la SBA de los Estados Unidos - U.S. SBA's Office of Veterans Business Development (OVBD). El OVBD existe para ayudar a los veteranos a convertirse en socios plenos en el desarrollo económico a través de la propiedad de pequeñas empresas. Puede visitar su sitio web en www.sba.gov/offices/headquarters/ovbd. Financiado en parte a través de un Acuerdo de Cooperativo con la Administración de Pequeños Negocios de los Estados Unidos.